SWIMMING COURSE
Course dates: June 25 to July 24. There are not classes on 24th june and 25th july
Registration deadline: until the maximum number of users per group is completed.
Modalities:
· Monday and Wednesday
· Tuesday and Thursday
· 4pm (children and adults)
· 5pm (children and adults)
· 6pm (children and adults)
· 7:00 pm (adults)
· 20:00 (adults)
Options: UMH, SOLIDARIA: 36 Euros; EXTENSION: 54 euros NO UMH: 72 euros.
Adult registration: Registration will be made through the application of reservations and registration: http://actividadesdeportivas.umh.es/Login.
Registration children: The child must be registered in the application of reservations and activities with your ID and password. To do this, you must follow the following steps:
1. Access the following link: http://actividadesdeportivas.umh.es/Login.
2. Select the option of EXTERNAL USER and click on REGISTER.
3. Under Record Type, select BENEFICIARY. In the email you must insert the one used by the owner, in the other options enter your child's data, mainly the sections of: personal data and date of birth.
4. Option 1: In the event that the father / mother enjoys any umh rate (solidarity or extensive) should send an email to actividades.palau@umh.es, to adjust the rate and that the child can also benefit of the reduction. Once verified by the Sports Office you can make the payment. Option 2: For external users of the UMH, they can make the payment directly.
5. Making the payment: Access again the link http://actividadesdeportivas.umh.es/Login and in the upper right part of the tab select the name of your child.
6. Registration procedure:
– Class registration.
– Campus of Elche
– Swimming course that interests you.
– The minimum age to complete the course is 4 years old.
– A user becomes an adult as of 12 years old.
– A minimum of 6 people is necessary for a group to finally open up. If in the schedule in which you have registered there are no more users, we will inform you so that you can join another group.
– Groups, as far as possible, will be made depending on the level of users.
– Once the registration period has ended, the money will not be returned, except for reasons attributable to the UMH.
Persons over 18 years old enrolled in the swimming course may also attend the directed activities (pilates, zumba, indoor cycle, etc.) during the month of July. To do this, they must show proof of payment to the monitors responsible for the activity. AADD Schedule: https://deportes.umh.es/files/2019/06/HORARIO-JULIO-2019.pdf.
Any questions will be answered in the sports office of El Clot building on the Elche campus.
FREE BONUS SWIMMING POOL UMH
For access to the pool during the months of June, July and September, in addition to the TDU you can extract bonuses for free use with the following rates: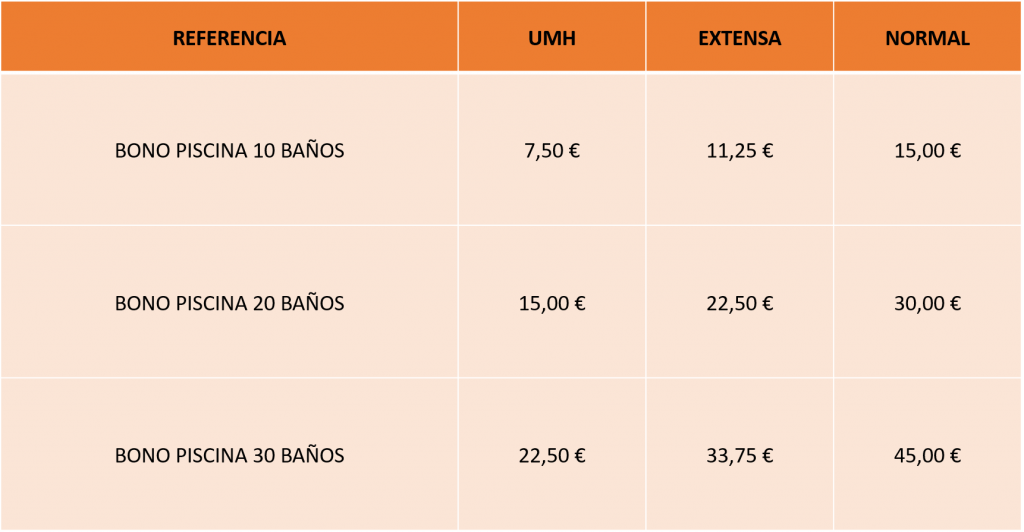 You can also use individual vouchers in the vending machine located in the El Clot building for 3 euros No UMH and 1.5 euros UMH. The opening hours of the pool are from 8 am to 10 pm from Monday to Friday and from 8 am to 2 pm on Saturdays from June 1 to September 30.