UMH 25th Anniversary Race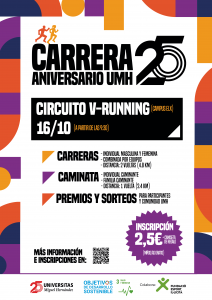 On the occasion of the commemoration of the twenty-fifth anniversary of the UMH, next Sunday, October 16, the UMH 25th Anniversary Race will take place. The race will take place at the V-Running Circuit on the Elche campus starting at 9:30 in the morning.

You can register until October 14 at 12:00 p.m. and pick up your number at the Campus Healthy and Sports Office until October 14 at 3:00 p.m. The price of registration is €2.5 and children under 14 years of age are free.

There are two modes of participation, RACE (individual or couples) and WALKER (individual or families).

Information and registration link: https://cronorunner.com/inscripcion.php?ref=620-1656

With the registration we will give you a commemorative t-shirt of the race, in addition, there will be a raffle of gifts and prizes.

You can not lose this! We will wait for you!